SABRA PERRY DANCE
Pilates / Ballet / Contemporary Dance Instruction
TEACHING SCHEDULE EXPERIENCE ABOUT PERFORMANCES NEWS LINKS CONTACT HOME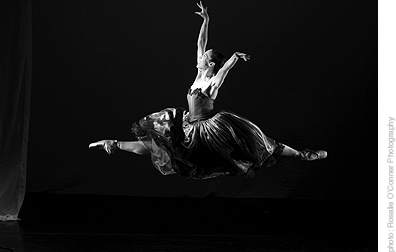 TEACHING SCHEDULE
Overview / Pre Ballet and Creative Movement / Ballet / Contemporary / Pilates
Ms. Perry's classes draw on her own training in the Cecchetti method at Canada's National Ballet School.
Her teaching has also been influenced by her studies with, and observations of, such teachers as David
Howard, Francis Patrelle, Zvi Gotheiner, and the faculties of Ballet Academy East and the Central
Pennsylvania Youth Ballet. Classes focus on correct alignment and initiation, musicality, and movement
quality. Ballet classes are offered to students of all ages and levels.
Pre-Professional:
Classical ballet technique is introduced gradually, and simple exercises are repeated in
each lesson to build strength and to reinforce correct alignment and movement patterns. Students
progress to more challenging repertory only once proper strength and technique have been achieved. At
the more advanced levels, an emphasis is placed on movement quality, musicality, and expression, in
addition to technique.
Professional:
A simple but thorough barre incorporates varied rhythms and elements of the Harkness
Therapeutic Barre to ensure a full-body warm-up. Center exercises are designed to maintain strength
and technique without creating unnecessary tension or stress. Ms. Perry has taught company classes
for Complexions Contemporary Ballet, and currently teaches company classes for Ballet British Columbia.
Adult Students and Dance Lovers:
Ballet class can deepen an appreciation of dance, improve
posture, build strength, and increase flexibility. Ms. Perry's classes are accessible to adults of all ages
and levels. Classical technique is explained and broken down for the adult student, and exercises in the
center have even beginners dancing in their first class.
"Sabra is very sensitive to the needs of professional dancers, knowing when to push and when to let up.
She has a sharp eye in technical corrections and also helps the dancer understand how these adjustments
further their individual artistry. I always look forward to Sabra teaching our company class."
Natalia Alonso, Former Principal Dancer, Complexions Contemporary Ballet and Ballet Hispanico